Trekking is a whole different experience in itself, it feels like a beautiful journey with gorgeous mountain-covered views filled with strong will and discipline. Lets read about some Popular Adventurous Treks In Jaipur.
It pushes you from within to get to the highest top and leaves you with feelings of joy and accomplishment. This form of adventure feels very soothing at the same time, and the best part is that you do not need to leave Jaipur to do trekking because the city is blessed with some breath-taking treks located amid the Aravalli hills. You don't need any special preparations to go on these treks, just some good sports shoes, a big water bottle, and some snacks are good to go. Exciting isn't it?
We have always perceived Jaipur as a land of culture and heritage with magnificent forts and palaces, but voilà! Jaipur is way prettier than this, especially during the Monsoon. To enjoy the rustic beauty of the hills and the age-old fort, try trekking around the Aravalis of Jaipur. Today, Jaipur Beat will take you on a journey to some of the lesser-known yet breathtakingly captivating trekking spots within Jaipur that'll give your weekend a fresh breath of adventure. Now you all must be wondering, "Other than Nahargarh where else can we go for a good trekking?" Scroll down as we ensure that each of these treks is mind-blowing and adventurous enough to leave you feeling rejuvenated!
So please have a look at these treks in Jaipur you can explore them
Hathni Kund Trek –
Hathni Kund is a trekking spot that goes along the rich green valleys. On the path, trekkers can appreciate the perspective of beautiful scenes with hypnotizing sand ridges all over.
Hathni Kund is located 17 kilometers away from Jaipur and absolutely worth a visit.
It's a very easy and flat trek for beginners so you probably don't need to do a lot of hiking. It ends on a mesmerizing waterfall hidden in the mountain valley. This waterfall looks even more beautiful in the monsoon. It's a great way to spend your Sunday morning especially if you are just a beginner
Start Point- Charan Mandir
Best Time to Visit– November to February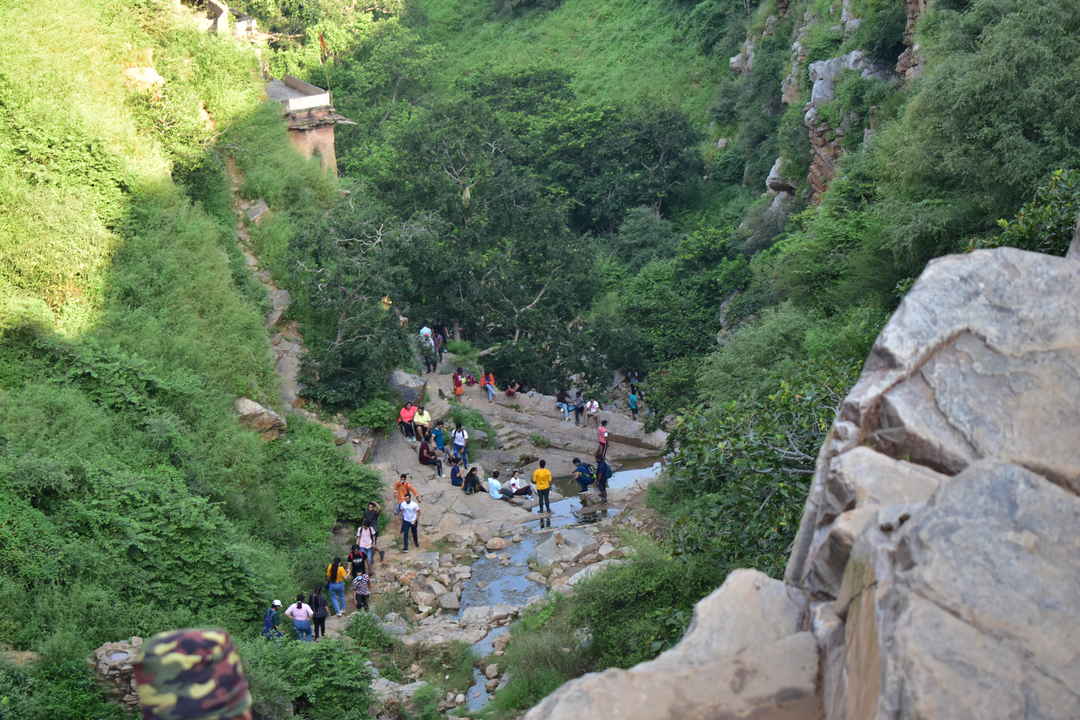 Bhuteshwar Nath Mahadev Trek –
Bhuteshwar Mahadev Temple Trek is a round trek that begins and ends in Amer Town. This is the oldest trek in Jaipur which starts either from Mahadev Shiv Mandir or the 'Jati ke Balaji' Temple. The duration of this trek is approximately 2-3 hours. These days not many people use this trekking route in Jaipur rather Hathni Kund is more popular. Here are pictures from Trek to Bhuteshwar Mahadev. Some people write it as Bhooteshwar Mahadev Temple instead of Bhuteswar Mahadev Temple. You can park your car near Sagar lake.
Chour Ghati Trek –
Chour Ghati Trek is a lovely trek withinside the remnants of Aravalis topped with lush inexperienced sun sunglasses of deciduous trees, chirping of birds, calmness and tranquility of nature, and splendor of greenery surrounding it all.
The trek starts offevolved and ends at Galta Ji gate. Assemble yourself for this 3-four hour trek on the described web website online according to the time that fits you.
The trek is marked with brilliant rocky trails which give smooth attain to the Monkey temple and regions surrounding the Monkey valley, This trek is a brilliant revel in inside itself.
Chulgiri Trek –
Chulgiri Trek is known as an adventurous place. The scouts and guide camps were held over there. People come here for climbing and tracking because it's a totally different experience when you are doing climbing on Aravali ranges and mostly people come from out of Jaipur. Another tourist attraction point is Ghat ki ghuni tunnel which comes on the way to chulgiri. This tunnel is approx 885 m long and it was inaugurated by Indian Prime Minister Manmohan Singh on 20th January 2013. Now a days many people come to national highway-11 just to see this beautiful tunnel.
The Chulgiri has various scenic views that are more than enough to beguile you completely. That's why many people come here for picnic mostly on weekends. To see the beauty of any place you have to come yourself don't just only look at the photos. So to see the spectacular beauty of the chulgiri you must come and defiantly you will like this place.
Amer Fort Wall Ramparts –
Amer Fort Wall is the 3rd largest wall in the world. The Wall Ramparts have been present in Amer since the foundation of this city. They are very ancient and a symbol of our heritage and culture. This place is very famous among Instagrammers and Travel bloggers because it is right across the street from the Amer Fort.
It begins as a staircase opposite the Amer lake and extends into a long, rustic trek covering the Aravalli hills. It is a steep and steady climb with some slippery texture in the monsoon season. This trek covers a lot of the nearby hills and mountains, we advise you to not go for a long route on this as it can be challenging to be coming back from those steep stairs.
Also read:- Jaipur To Kishangarh Road Trip With Foxline United Club
I hope you enjoyed reading the article as much as I enjoyed writing it. If I miss anything else please leave a comment and your suggestions.